The past few months we did books (Sci-fi, Hacker), we did movies (Sci-fi, Hacker, Pandemic), and we did video games (Programming, Hacker). So, we think it is about time to change the subject altogether and this time around to focus on board games. This particular time we are going to suggest games mostly aimed for two people, because you know with social distancing being the norm around the planet large groups of participants are not ideal.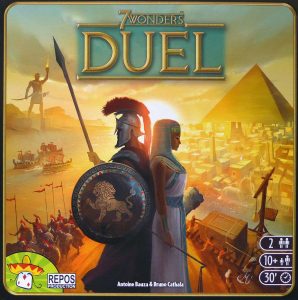 Have you ever wandered what your civilization would look like?
Do you want to put him to the test against a friend's?
Then you don't have to look further with 7 Wonders: Duel you can find an answer to those questions.
In this game you come head to head with the famous fictional detective.
Try to solve the crime more efficiently than the resident of 221B Baker Street. With no luck involved, this is a game that will put your mental ability to the test.
Although you can play Sherlock with up to 8 players, it is a better experience when played by just two.
Another co-op game on this list. In Mansions of Madness grab a friend or your significant other and try to save the world by the hands of the ancient gods.
In this edition the role of the Game Master is filled, quite successfully, by the dedicated app. Do you have what it takes to survive the evils poised to conquer this world?
Dominion is the card game when we are talking about deck building. As a monarch face off against other monarchs for control of the land.
With 500 cards available to build your decks, you can fight head to head with friends or family for the title of the "supreme monarch".
As promised, we will keep on providing you with interesting suggestions of activities or media to spend the time while social distancing at home.
So, stay strong, stay safe, and please stay home.