Keeping your organisation airworthy.
Aerospace is an industry where there is no room for any kind of a mistake. The smallest of anomalies can prove catastrophic. And being one of the most competitive industries around maintaining the highest standards of cyber security is a no brainer.
With IT intergraded in every part of the industry, the targets for cyber criminals are numerous, and they are only going to increase in the near future.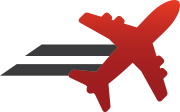 Interconnectivity is a blessing, but it can also be a threat.
In the contemporary aerospace industry, we can find systems that control in-flight entertainment, financial payments, as well as more complex avionics that control the aircraft. And all of them are connected to something else, that leads to possible vulnerabilities ready to be exploited by malicious users.
For example, the System Control Unit that provides passengers with real-time information concerning the flight and the Seat Display Unit that provides passengers with in flight services like, watching movies, buying items, reading articles, or connecting to the internet; both have been found vulnerable to attacks numerous times.
To counter that, TwelveSec experts can conduct security architecture reviews and double check your avionic systems firmware in order to provide the necessary assurance to the industry. Our team will also provide specialised risk assessments tailormade to the customer's specific needs. Finally, our consultants are also focused into researching aerospace systems security in order to contribute to the on-going discourse.