Category: Reverse Engineering, crypto, ransomware
You can download the Ransomware Challenge, along with all the challenges for the 2016 Greek Qualifier ctf of European cybersecurity Challenge, in this link. More details on the Greek ECSC 2016 Qualifier CTF event can be found here.
Points: 90
Challenge designer: dxflatline
Description: > After some user complains for files being renamed and not making sense, the it sec team suspects that fileserver data are under some kind of ransomware attack. Some very sensitive data there were already encrypted but they had the private keys stored there too. Back to IT, AIDE reported an ELF in /usr/local/bin/ of the fileserver. After some dynamic analysis a connection to a Telco IP on port 12345 is done. The admins quickly set up their span ports and packet captures to/from this IP and got some hits. The pcap has an encrypted data flow, but it's no TLS thus they might have a chance.
Try to understand how the ransomware communicates, encrypts data and then decrypt the pcap flow. Flag is there.
After inspecting the communications in the provided pcap file we observe two TCP streams (7 and 8) that seem to be the ransomware encrypted packets.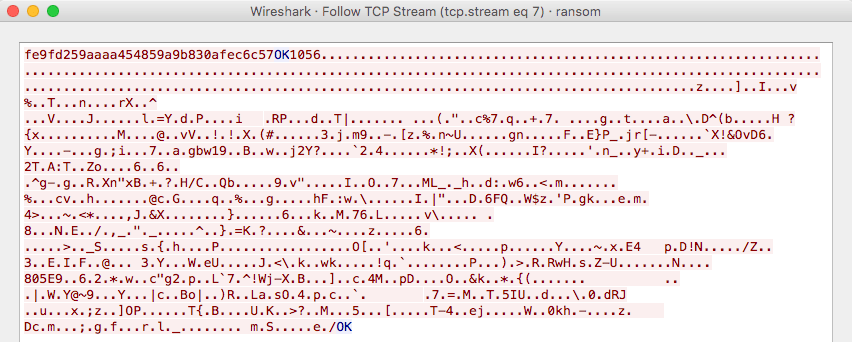 The client binary is an ELF 32-bit binary and we know it contains the encryption/decryption functions.
❯❯❯ file client
client: ELF 32-bit LSB executable, Intel 80386, version 1 (SYSV), dynamically linked (uses shared libs), for GNU/Linux 2.6.18, not stripped
We proceed on reverse engineering its functionality. We can quickly see that it uses standard AES encryption/decryption in CBC mode. Now we only need to find the key.

❯❯❯ objdump -t -T -r -R client | grep -i aes
00000000       F *UND*  00000000              EVP_aes_128_cbc@@libcrypto.so.10
08048d65 g     F .text  0000015f              aescrypt
00000000      DF *UND*  00000000  libcrypto.so.10 EVP_aes_128_cbc
0804ab0c R_386_JUMP_SLOT   EVP_aes_128_cbc
Going further, we were able to extract the key from the following piece of code: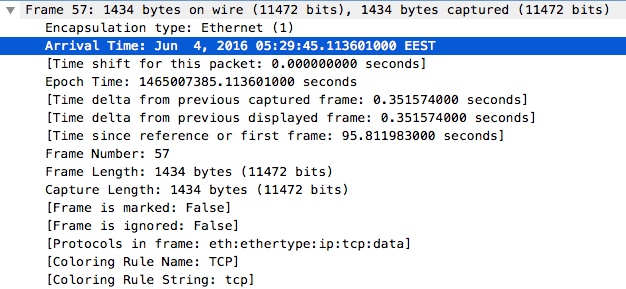 stack[2030] = time(0x0);
localtime(esp + 0x48);
strftime(esp + 0x3e, 0xa, "%m%d%H%M", *(esp + 0x23dc));
sprintf(esp + 0x16, 0x80497ca, "w3d0om3d", esp + 0x3e);
send(*(esp + 0x23b8), str2md5(esp + 0x16, strlen(esp + 0x16)), 0x20, 0x0);
memset(esp + 0x2a9, 0x0, 0x2000);
read(*(esp + 0x23b8), esp + 0x2a9, 0x2000);
        perror("- Client-read() error");
        eax = *(esp + 0x23b8);
        close(eax);
        eax = exit(0x1);
}
Note: The MD5 string is the checksum value shown in the beggining of the captured TCP streams.
The password consists of two parts the first of which is static and the other one is generated on each communication.
w3d0om3d + %m%d%H%M
%m Month (as a zero-padded decimal number) = 06
%d Day of the month (as a zero-padded decimal number) = 04
%H Hour (24-hour clock) (as a zero-padded decimal number) = 05
%M Minute (as a zero-padded decimal number) = 29
We can deduce the timestamp for the captured communications based on the Frame's arrival time.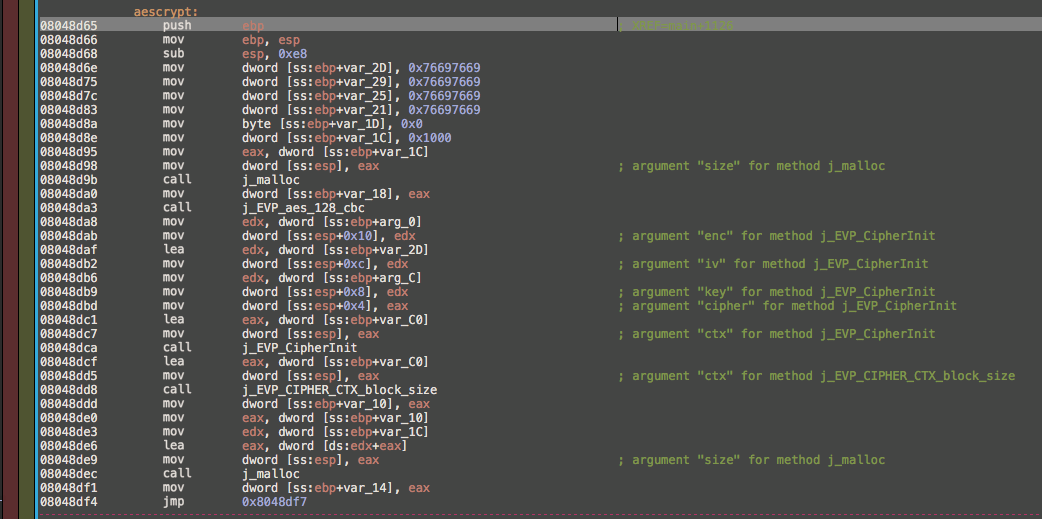 So, the second part of our password is: 06040529
Password: w3d0om3d + %m%d%H%M = w3d0om3d + 06040529 = w3d0om3d06040529
Having all the information needed to decrypt the TCP communications, we used the online tool: http://aes.online-domain-tools.com/.
Stream 7
8b7a961bdd805dfbea49f3a3a476259ea0549bf3f16ec889db8d72582ee85e0d0e949856c8cf8c2e4a7fdafdc51ba26cc53d59186415500fd6e0da6909ff525096801b6482a0547cb59a97efad9a12201d8ad4288f228c12632537e771dbed2b1437ee20b3178ee167a385741f97fbf161babb5ceb445e2862c6e8ddf11448203f7b7889abf9f7e9a22e8dbdfe4dfe1efcd140b8c676561d9a21fe210258bb2823ea112ebbc502339d6a8c6d3908d62da25b7abc25bd6e7e55e499ffd6cec1676e12caec98de46f99e457d505fa56a725b2da7e5b802189c605821264f764436bc0d5987a6a7d72dd8f18a67e43b69fcf31037b7a3619d67627731398f8942d4cd7702f86a32593f18e7f0f06032b73413e0c0c9ab912a213b07c758281df1059cb6c3493f9291ddf7cc27dd6e5f83cc792b0e691144ef0b5f0c13dc3254be413a54952e5a6fe1f9f0dc36fdb736d0ed0def5e672df6671b9e528e586e227842c52bbe3fd0482f43d38b516288830fadc239b076228aa0dffdce49f7e54f82ee37e5dafa4d4c5fe25f68d3e6643a917736aae93cf96d1bbdc5daffcddb25f3d18d6376a39568f613b2d2fda1fa4063cb47a8ffa3af71f4a225d8f60e67f9879c00af6846fb3a778c5c0cdc021b18ba490b7c22abf317440c3646519a9457247ab42750de676bef92e965dc6d8e343e19fbdb7eb23c2af5d297a92c4aba265890c3b3e407e703f17d1cb4d6ef9aa836cec30f6bb2fb4dd337360f4cd7ffd1cdee09765cee8a131efa208b3881eaf64ea84512f82fc22c5f0322fc5ffc93c8b3ae5ed9917deb3d4bc63fd506fced26179ae17e17dcff177a8cdabbe2ee36970dcfe8b91d953e0ee75f53aedbcce6e2739d7ba868a6cbbd8e5016a0d3e5c4160512a5c69c1b9d9bdd84c04f5bfff127cbfcda086bcb1ead3cf7b09e081770e0e3c7afc80759b7d9b6867ef678a7453409709a44214e119ebf8ef52f5abca333aad945f549f546f61e40fdb88b2033895986051957ac6555eefdb10c184ad93c5cf76bbd02776b15d11ebc872171e760a716de7f1f97d5fc50a39b0329fa3ecc52c1527748e873c95a2d5597171f96cc16e24ec3edd2863830354539dcb736ed32852a7f778cbf632267321770cbba4c60371f5e21576a2d58e442d6e4ca5de78363a4344d08a37044a59e95074fa4a0266bc09d2a107b28d598cfdb00b6d909cffb0a9a7ca5571159407e39db8e02591797927c63d50b426f7caed12952d5e44c61b6734fd234ff70ae63d98660ce09f237e13de44dc71a541b354955e0bc64c60edc5cf230fe64524a0df5b9757f9cdf781e3b7a1fe05d4f501cf11087f9b6547be14210eb0c9855014bd3b13e3fd7834da5dd813582e0a65ba885ca1f94542d34bea2656acc1f83b6aa57e68c306b68112dc3f585857ab9094463c66d9496e73be167d6668a00d472fc6cf45fbf8ca386af98c912206d8653cdfa8f141f65192f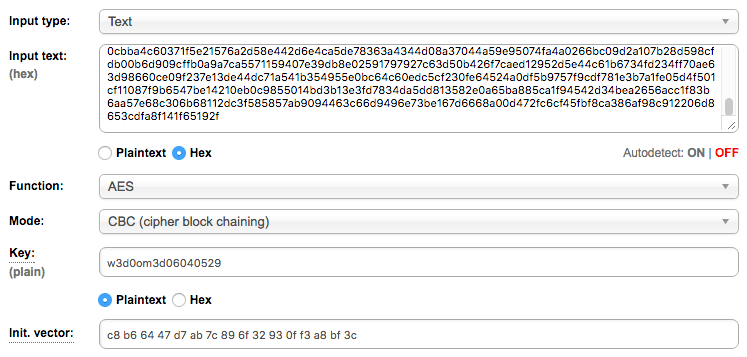 …$xQ9sOcOiYLuEuQQJeRUEP82LE2c.fMRb51YiO9v6RB7K2F5EVto8CU.uE1Ilbc5fQZMz3fhzHGUk6UhPcYk0M.:16956:0:99999:7:::
bin:*:15980:0:99999:7:::
daemon:*:15980:0:99999:7:::
adm:*:15980:0:99999:7:::
lp:*:15980:0:99999:7:::
sync:*:15980:0:99999:7:::
shutdown:*:15980:0:99999:7:::
halt:*:15980:0:99999:7:::
mail:*:15980:0:99999:7:::
uucp:*:15980:0:99999:7:::
operator:*:15980:0:99999:7:::
games:*:15980:0:99999:7:::
gopher:*:15980:0:99999:7:::
ftp:*:15980:0:99999:7:::
nobody:*:15980:0:99999:7:::
vcsa:!!:16623::::::
saslauth:!!:16623::::::
postfix:!!:16623::::::
sshd:!!:16623::::::
nginx:!!:16623::::::
apache:!!:16623::::::
ntp:!!:16623::::::
mysql:!!:16623::::::
tcpdump:!!:16640::::::
dbus:!!:16648::::::
elasticsearch:!!:16648::::::
logstash:!!:16648::::::
mongod:!!:16675::::::
sftponly:$6$SUPFnQdX$gfWoYDCJYx95e/9B30nJTI04XJ9xwUeSYd7s5yvTsYoyqEhOXezXnqtdRhAxS6OBIlthx6VvOGC5DSuNo3aGt.:16956:0:99999:7:::
dstrevinas:$6$K7m7Jdt2$pQdXOfzqaBEzyNZkw7ip0eyS0Dj06CIcPRjcRQk4In.lfTRgE9dGfBQgFddkBlCl/GVASuAaYY0X0M4qKSSlp1:16956:0:99999:7:::
…
Stream 8
856c47535a84a6b492de486fc7374f69f700d206f17f2ab77027d526cff16eab5357485b799f3a6f37b4c8977884628861982ae6b4b0eeb00c6b8c09d95964e46bcd24c247b2ea6edcc582e0f920eb592006d6e69ad3800b0245a9e0d1230d21e71b93a4fc8c2938aa6bfdde8d73ce05f83885ce7e8f92fd9749d0e2d76929ff3588d6073534ae6d12074c61974b0f0d051ff906ff21b11a82f8657bbe5515badfc2f1c5d36f54c330ebd100945627027981a2a8b6ad299697cb234d730b721a87d2803c0a56539afaf87571fd6c7dd2ae3d3e77b51f6273b722b3b40da56050f5e37fa49412b9a88420a7ba7fdb6f75d4e2bba95651daa674ac33cbdc361757c925956c04071e13513d89f969dafe2b4cfd1030bbbb143a28f063a15672e406008d3970a1415bf0fa233e28b2e44d22fa5ebf5ff13b8fa1230e27ad649debd9eeb8c108c66621d82a7457156dd717eacd75dacb6ba70416605b377fd8b222c84306a9f43af19a6b5f60c16ae7f4eb16f619a3793071e40b9dff7964d9708c4de9e3fb0dbf491234626cc3df3c0e90ad3e41b356c11c4b346ff15208dea2f52e734a93b08c2b7f8ccab33290b6b592f8ce43de811a4e50b2a6b9abdeb158c4327255df0a4000c08ccf45e90851c8177adbbffb7d49c66f904911e5ef7f65f2bb64071b88004ff7d0b8cea33a3cb62c004399bfd82206d9587f07694cb3d47a58230e2e0cd4cfc716c9daecabfdfceb048f04f256be01dd8f2b617ead9e6b9fb15c4a312b17754411b6b8ac2c333aae1f9ae4a4a464bfa2abeb703f1630f1f4aa43cdd023297d07ad904723cf64b2b6ee90cde96ee4adc6973b35536d525ebad889f616b7c1eb52334ecf1d42f682626f6b68051f926f4b0b6f3127f775b580a1764efec528ffa6dcda988a1f485704d7df573b24cbe9cd48d7f4d99f7ea333ddfa467aadeaaa66a976914ef903bf2dc9caa8b60e3d54381fda2645db9556ff2595788bd3f4851550202b3fbecd083a838cb058331203a508b4a61d016f998a5f84ba6f36748f9061b7656fe788b08422b80a12f6fe24e91b3b84147217b5ee86d65a8e1122329e0675c6d827215a65dbeb2ab193d5116a4421233e5a8a77f05177f918c90530edadceb531bd41d3c94c8fa434530e93ab1bbd3e45a3186f77ba1a0834444218fbad6bb7c1e93a078defc8f12baafa7d586b0a5bd02ae6e9c4c4d79cbc718ce5350c8d145cde7025159bab02aac84f75161954b55138ffaf78903ff800c83edd6b087d3d809542992249257583502823dcc27503f64d8103a6efba02c2768a6db047cf0121438f3d309dfbaa39f4eace0ab2380eab6807d8aa3b929dea161bbc1c4ad89728581c456de5fb3be6060b3aa0abe8ffb29bdbb99e63c08f213f39b46d38471a9e4cd354eb37eb63b67a2ce9ce56b962a3e9cb6f072e31eaf5c0ea71dc29c3091b67198f6e3d5fc25de4b95834c5e6d66b3be617147dc47746d6e0744adb2603a6adfa562a3ce993a9d6e58b138aab59464aeedb0bccc3de08b93542deb29a1aff5f71e2e768e10c81b4247b9d1bf9e9ecdd4c3fa26dcd69c5e61f72ef2225f7fc4c6f86d975086ebb9b3ba283abc869df1b128265fc755bc1e04dfaea8f1b002f5bc5b06c4337ea21a82b02c664167cf0bdfa5a1e21aa8f9bced693eae3da135925b25c2632e3ef233eef5f64b94b5073b711c8b3792004055734ca7b920448057e21608f42780fb96f2edc8804fa3e95edd691c2ba14d7d140d234669ce5d307fa16719ca45225def6e3660797564b872c21238cd680ed0f29708e26bc3cf73aea39715213e15fff6b0ae992ce4261e0e847ed100cf630943ca28d1bd05db247b2890ff46b8f3b08d70dd7d99bd8cf859df04211a6be5a034d255d7f7cd1e7e4c9fb4d2f7a6564b29c97ef107a922bb5a3bfd3c110963a8820d9b60a6ff38197f9c6a8f96e1f0d24aadb479a441520ecd7daf2c14bd29ca4b00192c53fe60bd3a2f82e4bc087081f70b5fa9d76d5e752008553305518bd06822d0b70ce05081d24ee0711ae270608e7db7ae6411b81ff505413699ffac646c64904c7e3455ff835063e9a86c016effb18e13c18b4e2fa6e90f78d6dac508599853f3d3dd9ce4bb38561958524cd97ddb92fbf77abc512a34f8f26eb53d0f3242ccd95ac3f0ab70bb9601a04dffac47697a1b870ea679d6203d4738f9a5683e6cabfcdaf131ed1e442c7eb216859e0df6fdcf45486ccaaf42667bc4813adcf0a14c4ed3b2c77e8290978128b801486267e8e983ca817f5f60868fcff6b555d44797aa5da892a9ac8243a04d7740b68075dc0269b1d9e9a0104d6265d1fb8daf608552fa534bebeb61d1f77e06059e2908b03cbdd24cb25d11d00173de2a476039c5931eaaca92a1e8cf913ffb71440c416c4c284b8490ab417845effc332f12f45149417ce30ff180a49a6f8ec74db5a7d9c79a910ea83a43196a86d5e8ca19af3d823ca533e89a974f4fe6bf3855381b8f4e401b394bb0f490e859a08789e8024fb4efc4e4a6de875fa92c21b38ce3f21a445df2efe1c2db5d70127490b02479539bda7c8ad7a13d7a0f761bda5ce6f46e60966ab3c5e9577e9b542ac68c0e681e40b0506347c99e9628d72e8a6ef0ba89ff87dca895faa5d4a78de91c52ec2e3def6550672a19929cc7bfb2286a5f426770eb7f4cb534b306682d0e0171902ee30a6fd472f92e431440277f6160df0c55e39bb0a025649b6053e22a5697788457db74de4a698ea51a866e4f74c1a1ab9e9ae5f9f2807e482cd56f79bd03ae35a647fd9e859b11075db9f375e848112edc5d0f28a1ef7d44df5e98f7dbda7e9dc3c77923ed7e26b062941d7c59855d2fa9ebf1b13fba36e36cdac5fb9f478aad14311374a8b6a3bad2f653232ea38149a73e6f48ba285d360e93f24a266a8150a773fcbd2d3949a59ccc2e06a9af483542ccde31dbcf064770b4556135bd2a630dbe1b4252f7516ee7073ac4f66e5ac54c6e50c23e75d670462d534c36438a79e2cedad2214521eb3485b2feff08284a370b217498f8d3fbbc3ee4b06a33a8b5b21e09050aa3cf09e98b2244febe083e538836269fc56df119eb7f78d4ff3a48fc4457bdff7640181cec2a9b4bc1a155db877292849abb566290856e6394678aff4d2fed0a8ecd784c877f42ac791e8f3e560a5e6f2c9f23104995d12097592f95736bb8784addec4273ae8eff1ee5dcc32882a19c5eb7006dcd0b7383b6a122850ba5db86f6b9daf24b51e8bf9c1d9c0db9040bc261fb6d645c0992393df054b8963babfd3480f6f730c810f49f868dde041c79f862c6c84f6ba4e5ba5edecaaf95c744515f9760c7f897363c75a54dc43a9752deb44a436b6050b31d684305887a2f7efea31ea7489778e2d26b01174036a4b0951385544c190e7c62dbfe81a64978b1d82791a97045e38ceeda756891df4a13ddcdc2f56c42e4b72e3fa6588d601d9f9b8727aabf335f891cbe76668b3f2467165d5029063bf10b29b1349e39ea39937b6e3d501f7924c17a75be802180a1ccc0fa84f5e4172633503d359910e6cf5561642854cfa5e1e04b5e96debbaf3b56a80a892e0eac107c6df05bd56cf0d7643bc940931595d24a78c9908ebd2e87425047364ede80058af0fe3d0fbd2ae142696431c90b85079f4a63b7063d963dbd36e46690792a99ec3cdf1c19d71964a06da3e12efeb8669a5abdad03169142e83884fae8a43273d7d12931c575bcb4f5dab18a1f864527fefff0a8c70b79d46b50492e98e142b35b14f14c3cab822fe2edcafd7a9d55c4215219be22d31757485e25d5a5ad5fa53b110324d19bce7f2a1eb8297690bf1c48c72dd2dead5f919f21c55d14785de76b1acc17b908b34b84c77ffdeb4b2e29bfdb0f28898360510d4088a4c5b55dfc99ada9f2651dc6fe46cb8145de703dfa78e54ca9a324c1adaff1b885b2f3c36b36a073a68550a064e822df54f3b2632c6ff1bbed9d893195341ac8dc39917854ee7dc5cec4617c8fe5ee3215e189bd1ec6fd560b7a045b5a09ba35ded279a54e8e07dde2f9ef05af3a51b6fd22316fca6d6b23d27ca18d92d7cc52a8fe714ab459ed96e2d5e66082a3d4c18ecd1f333d29ad653ddf15ac9bb691936f896de15ae01659ef620381cf63787ab627aade66c49737a737992c66bac048f43839e12b4d0156940b0dabb3669d6999051bfefee4fc096ac63f3286b7932b296cd68ef15b07fbe3bc4f6f28620e8dc5d1128f4f3d16ec2b8131176e9cb0ef275f142ee5a37c6df5d4d8df5957d4fb3ecda2d407aae235625050056b58f56336fc29080227afd80662f3bb9f7eefa0457ae229c9e5e65d21a53c26cd12db98f5ad62f45c7f8de4106f39c80ba65bcd591d9f7c4e7724d37c1cb9c2574b04dc35bda070fff6ad1e45816f5720468891805d8ec6892f9b3e0220f29880968d1e50db6dfc4fa0f3fdfeae054ade6fc337a2afc2d772626567d0bb9d050ce59bd1c78e96676a462f574c2c9e35c5b36e8e1dee9da6566d66a487ec0f78724c50d5c845991c8494921fff53efaffae164708cdfd29ddb8fbc267e8c68f62b3623de8e139cdd356d176fede663a73147499999abf53e7ff991e661a7741a58dbcde278815447fd7fd6e2920931219c9819bdbbcdd2a711a6039532353430db2eff88f8028420d5ca7b878feacd357a68855202ea8a64f50fec712ef8e9482106962d9b219a99363b8d2d7769a25710b47c100982afbe35061113fa35a62ad81b5b1cf60acce19fedd31a6fadd7bbb3eb5cb2cdb5d1c541d98a3ea0e5bec026281c9337225bce2891db82da3b9ffe0e58fbd4fe1e34670c45d3c462e96dbdd2381028bc00a55d5966ab277721cdc66958e52be1f18f1e34dddb5831af94007a3814417e952b243c19298872038aa940a5b364f8b3464c6ec853050c3d618aa1f6a24eb243fee82224a5005ee827d2eabfa5d09eeedf73cb9a7ff9d62670abb3a2a267f66cb55e9b0592d226a31fde5c48782278cdb85b21fbc0a4f89eb58a8170b772504b8b0fab8bbcb4bce071680bc5e9089e1d60bd7104cbecc613198155ef8171f698992ea9a8961adbc6b16548f9fcae6a4e33ec2b3c472e4b08b3831a2d3c6a43363a8891eb18e88ebfb974bbaff01ec9e6cbb71402de3ff757af9f5f43ac42a7e8737d9cb2203cd9489f0078714ecb5ff3df39c7a5402056e6f895b2da1837342cf4d5ab873fd227bef011d7e48bfa7717859259910e3a046c3f6143502005c637e4fd25b9384d73e9cf6cdc8cf3cc6464b4d14e5ad5d826dcf3aa6aacea5d80b70a784c065aa21adc4d0af861227e2257c0dc43d77977c65db3fc525bbf9f9085d7804a6b68caff082c39ee275946d48fc1ff4ac546d3851c17ea39fe8cdeffb1fcc6047339c4934c0514e6d2e037537d44b83a1ea72b0c415e77605998dac40a29147df6974117e9f119a0ca76817ae6c4e210bf1fa92e8124928bb8a2a875fbdb163d2cff158eba054d068a71eae71c2661e8643ba5f6f3fa0aef76c1aef88090582c026307602e4bcdab7e94682c9d5dd0db971b970550178fe2662f457c6f2ef5f7a0b7f34b46bdd9621663d5c31d214c19e96491db1fff859ea90ba056986b04e5978a83a187cc9db67551a567754f8759de878e6e80681275ab430871432efd16d325e3d455e6f30659aab30446d854a16b04bac3b26253c41271762a407b26d4d63111dc79b1ded1b4079e4ba147497dbb19184ad8d3627f7200866dfe90ec147c2be42ecc3abd1b16ddb207f3128a417e1779417aa79ed7c323516c2e83e06839aa44b3a15478248be219fc92d1bd2845b1a03dfc02f3a0dfeef98359eead37c5e41948ac6f4e26f1b2b93e4df0615557ec7f3af08716b3a20b3cd2c690fc688
…RIVATE KEY—–
MIIJKQIBAAKCAgEAxOXZL7X4VD7FSz4fgGpc+a+yQylsKE8OZNXg2fkcg7qD5kBx
vuB7Lmj/mB6aeh6mjWiZoG35e3H/R/KgUmGxig1zwhcRq4RvfllwJzy78riF3jxW
R+q4VQtkO8JSs0vEVnXojPhm+1kQGwOCjSaJwieMZ50+HCDoUB6xQJEkeo3t6kVO
zySjO46nGkxsxq9k7mSSRuO+zl0y/2U0sAC+8sU00AC9RJkkB4qUMqd+j563w54+
qZWMNZbQ+ErBPjL/cJ+5uPZRnaJWg6XE3OGQuAumV88vhf9V+G5v5I4pnI9TDLff
M5BIRUt9UqGALGUdY2VY09dqXW51Ce4kHCOS4pvHDofRHUh7JPv/MeXijNZ7t6Qv
L7++r9/AjtbehB/4iVGIhbogVN7BxJOvsEM4w5zN/GaPGrzVlnRUNudrH/8CFCka
N8tQA+RRpqKhZ+cbgiyUb+ynX6Vn9ga69NW0zx7A1oxN783NFOVdjsPanCJaRZ1t
dmlgGqOwctM7pIWMp3NcDKBgneATY/3uSFjKbphMRYADojsUFzaUPnVQtbrlZqgT
U8LfJXTpA+W/y7bqklqkroE0uESCOmWcbGD2rSTJ4b5r7hWjjSmLEMUgk5zU1i2F
/ra5y+vpW8PAn1VC+yuLR44cdA1lhqU4wvad/hNEZkG6cIXGHB/t8l8f5gsCAwEA
AQKCAgAI99MZmjcyVx2TXMQAjFepw7fh2Twk5dzo+Njh9Le4xEEHtr23jO/vYDbs
DdDJaSX64N3GcdvgJIQVGdb1iZ+VgyFXoMdcQY72eUpjbx+8YW0vfx4K7oTw0rEB
C8vKgNPzgDFUYmgGYLscD9/dX/j8T+LUQVQ34cPTCmLWZwX7UwWYGwoI40lQCCJS
T1LRBeIZ/ZiwA+WH7rTI7yokLhSEaDkMlEwKmNMMSOKRIBHipr8F+OovvTECq9je
xkDg/V+nGI9T/lwfSuqX2nAKA3gc+eLcswIeH1AiHZ2ZEmSQzfJhbOqMpbC0/0g5
AEQfQYfCJDaUh4Y/tS09g4w/f9tLxHqCqocZQR631CCS35ab3Mxk2Sy476+Wb443
YVDxz1qTGTuLYzqmidcldz0UZhulQldrNA5l+5Fr1jW+/mzkodXHk0e8HF1hl5xN
bn8NASodqOcgaz+3drsfkNk2gU0LQCKECuUP46N5dYh2wPOF3VZS5pa548s2eX+1
/u3DZ75TFZdTQb9mhNElrkBdVMcVDSlkIlrqK1YehPeE5iRSRhEV65YiM0UUfCJ6
R1CBdYseN/rJEPB8tDSS7FBOc0RzmvSIfnh3KBvUBRMf+IcVsGo8LO9O4wQskTEJ
VGZl5pqr+OUIbZxXuKsFwLdrzGZzDOi43xhPl88RxE3RgZvlIQKCAQEA8wG4SzXD
EUzzRyogPZcbSABcOxp7Vrq3caUvBp3dolunsQm2NYdSnoCNoxJyXcjhbmcUyyjS
+v5xnYYy1tP8TD8+y3aWgy22Mt6G43WtHewO72DvrqTfHNLfdk094k4uvMlaEhcR
lZgHxTdmIEFmHFluhEVtu2FicWa98xZu5DlYyJW9sh/KhuR7DKWYvZqLW/K/aDud
neRiUlgj/Bus+yciEsYOr3k6a03vbvn2WyPgh53RuyMvGj7GWtjZO53T1rRhgJPC
57bLsNIo4HyKf1FeJa/WNrc5na4g9LNUBoP0LOak84mvjXRrPnq2hDYRIL/+3DDj
xLT2awbBlJa4UQKCAQEAz2z9TFJNPyifwKIKWo2HDEXfLZlIknq9lcJF3h4/uNdr
CNAPWCtsubiRup+AsFiyPcfw1B9aBwQMbbI2IpwxyV3xJcgLnkhitKHGZl2Zqck8
m2LmWky2Ar46gD0OpDIBywugCJINPi3stPP2mqfOb02TslwM7FXUsbbs0smASRlu
v9ZF613gR6FyCsBcJb5EeBaEqB1kY4eKFr7RAR8LHfcLJpQKuREI3UUcXzTqMcn5
V3F19+9C88fb6N5EXfVgLIoDXx+j+BFHhrBpVoczcF3Exe4D8AKbc2Z+seqI4ncb
9TV1seuWs62pciJCqfVk+8yMdijWPfcyn+1LxQM9mwKCAQEA4FwKJ4Zvn52IT4AZ
XEQTMBsFDJyam6ywigCUtmsyoiA1Z0MsM6fJJAZUvubdKLG7UQ9jJ199y7b4dxPc
BHScUFlkRL4soNini7fgmkmfmCzGbUT2hiw6woX/Q151cGf2xt6whls+JPvE0NUh
OU6oVCxN2VmwwnxbQ5A0eCeSIqy/yBJYngi0GG8DHN4Xc5coa7BoAHhqQckG7jfq
oW17/DZZQzQRgvlOcpv2IGQwjF1HhG61oS4O4xBqWp4zktNZLrZD/05teTpQPeUL
UJgr1vjtD6aVBNeOHoMSclrPjWRvILWiPig1KUj/ayQpN1Aj6DTbvbh10ruxd4c5
W1L8wQKCAQBtbWQbtXeHEFlm+JVZvDw4n0vj9G+yxwnpTboqOe8IBq0y0wClVRNg
zxwiRi9P2Rr/ONG2Nmv6M4qS/GdOzvP89ZBYjDaE5E8eWBIgwtRkHAPbPcuka7/B
prWaHZvxx2fmxFVC8DoISZYMyH+ai1h+o4B9oc43h/hTYNuDQEZrSf2BOvtb9gRy
BZvyTBTQ3JWmfMqzHf5t+31ADp6YZtYoksHRMlyN0YzJnsIe//1lEtZ16SeBCzpY
/WDocwnCP8bi+FRbBIguQH9pcPvBaEYcy3sZqD1vixCTSskf90kLoCahr/hNSqoQ
VFeGHMjqfMkvhXO8ikKsIhMVB8znPJRtAoIBAQCLDVr2NEcZLx0VYd+nzpBQugnP
0TlNpd1ISfeFdKo9HeVP0rnQ8U7uBh9kX16hvIzlJapaGdRNuJNNN2tnUOXM8Oa1
Q8Q3fMUcKOvUgVAeqB8+/F/DnYcDkZKP0r3c+rwa43PE9dlqCOFOBuhdg/tFPjyY
cOoOqn0bzxBON1f722M27ZSlpkMHveQTts2O2v1o4OoJz7qqdIVN8vPd4fUC5xRo
qcf3NZ33uLF23pgGsI2Arf+h3wa/DgzDEgtkmO+wfnlxbJgbLCk1WaNR1NnoMBwa
E+4m1Q2Zz+ntHNtcY0ChuMgB5rLSZ1bTM0YAE3yykkVeyYVBlKdJxZtaxhoP
—–END RSA PRIVATE KEY—–
—–BEGIN PUBLIC KEY—–
MIICIjANBgkqhkiG9w0BAQEFAAOCAg8AMIICCgKCAgEAxOXZL7X4VD7FSz4fgGpc
+a+yQylsKE8OZNXg2fkcg7qD5kBxvuB7Lmj/mB6aeh6mjWiZoG35e3H/R/KgUmGx
ig1zwhcRq4RvfllwJzy78riF3jxWR+q4VQtkO8JSs0vEVnXojPhm+1kQGwOCjSaJ
wieMZ50+HCDoUB6xQJEkeo3t6kVOzySjO46nGkxsxq9k7mSSRuO+zl0y/2U0sAC+
8sU00AC9RJkkB4qUMqd+j563w54+qZWMNZbQ+ErBPjL/cJ+5uPZRnaJWg6XE3OGQ
uAumV88vhf9V+G5v5I4pnI9TDLffM5BIRUt9UqGALGUdY2VY09dqXW51Ce4kHCOS
4pvHDofRHUh7JPv/MeXijNZ7t6QvL7++r9/AjtbehB/4iVGIhbogVN7BxJOvsEM4
w5zN/GaPGrzVlnRUNudrH/8CFCkaN8tQA+RRpqKhZ+cbgiyUb+ynX6Vn9ga69NW0
zx7A1oxN783NFOVdjsPanCJaRZ1tdmlgGqOwctM7pIWMp3NcDKBgneATY/3uSFjK
bphMRYADojsUFzaUPnVQtbrlZqgTU8LfJXTpA+W/y7bqklqkroE0uESCOmWcbGD2
rSTJ4b5r7hWjjSmLEMUgk5zU1i2F/ra5y+vpW8PAn1VC+yuLR44cdA1lhqU4wvad
/hNEZkG6cIXGHB/t8l8f5gsCAwEAAQ==
—–END PUBLIC KEY—–
Ok you got the private key, now you can trigger and cause :trouble to
the digger: Here's a reward GrCTF16_fa334f3ddfe962957a7389d352845b93
…
The flag is: > GrCTF16_fa334f3ddfe962957a7389d352845b93
Automated way:
from scapy.all import *
from scapy.layers.inet import TCP
from Crypto.Cipher import AES
import datetime
src = "188.73.254.50"
key = "w3d0om3d"
p = rdpcap('ransom.pcap')
sessions = p.sessions()
sess_found = []
skip = 0
key_set = False
for session in sessions:
    strm = str()
    for packet in sessions[session]:
            pl = str(packet[TCP].payload)
            if src == packet.getlayer("IP").src and not isinstance(packet.payload, NoPayload) and not all(i == "\x00" for i in pl):
                if skip == 2:
                    strm += pl
                    if not key_set:
                        key += datetime.datetime.fromtimestamp(packet.time).strftime('%m%d%H%M')
                        key_set = True
                else:
                    skip += 1
    skip = 0
    if len(strm) != 0:
        sess_found.append(strm)
for sess in sess_found:
    iv = sess[:AES.block_size]
    cipher = AES.new(key, AES.MODE_CBC, iv)
    dec = cipher.decrypt(sess[AES.block_size:])
    reobj = re.compile("Here's a reward (.+)", re.MULTILINE)
    match = reobj.search(dec)
    if match:
        print "[+] The flag is: "+match.group(1)
# echo 7eamnull